ODM Customized Jewelry (Customer's Design / Drawing)
ODM Customized Jewelry (Customer's Design / Drawing)
Jewelry Customization Of ODM Design Drawings

CHICOLINK is one of the best OEM fashion jewelry manufacturer factories and suppliers in China. We have been focusing on the production of customized high-end fashion jewelry for men and women for 10 years, and can manufacture different styles of jewelry, such as necklaces, earrings, bracelets, rings, etc. We have experienced staff and advanced equipment, plus our complete supply chain of customized services, helping more than 5,000 customers create their jewelry brands. Our team consists of experienced workers to ensure that customer orders are fulfilled in the most rigorous and accurate manner. Skilled staff complete your jewelry using hand-grinding and setting, ensuring that each product is of the highest quality standard.
1. Fashion jewelry wholesale factory with more than 10 years experience | Professional staff | Stable delivery | Reasonable price
Our fashion jewelry wholesale factory has perfect manual technology and advanced equipment, more than 200 experienced and professional employees, and a strict quality control system. At the same time, we have 6 sales and order follow-up teams to fully serve the follow-up of the order process and ensure the delivery date and product quality of the order.
2. Jewelry factory wholesalers close to the hardware raw material market (Dongguan, Guangdong)
Our jewelry manufacturer is close to one of the world's largest hardware material markets in Chang'an, Dongguan. We have many product materials that can be provided to our customers to choose from. We use highly approved 304/316 stainless steel in our production orders. We source directly from hardware suppliers. The hardware raw materials we use have high hardness, hypoallergenic, strong wear resistance, low price and environmental protection. Welcome to contact us for OEM and ODM.
3. Wholesale fashion jewelry suppliers provide small order solutions
Most fashion jewelry brands find it difficult to meet the MOQ requirements for fashion jewelry factory production at the start-up stage. A flexible supply chain makes this possible. Integrate design, CNC, electroplating workshop and other manufacturing resources to create a flexible supply chain, so that small MOQ can be recognized by CHICOLINK.
CHICOLINK is a high quality fashion jewelry manufacturer factory and supplier in China. We can customize fashion jewelry according to your brand design drawing, or you can choose blank fashion jewelry for yourself and print your logo. We will make a sample first, and you determine whether the sample needs to be modified, and we can also send some pictures and videos for your viewing, so that you can understand the product more accurately.
What People Say About Our OEM Fashion Jewelry Factory?




With 10 years+ experience in producing oem hoodies and sweatshirts, we have cooperated with more than 500 brands and give us high marks.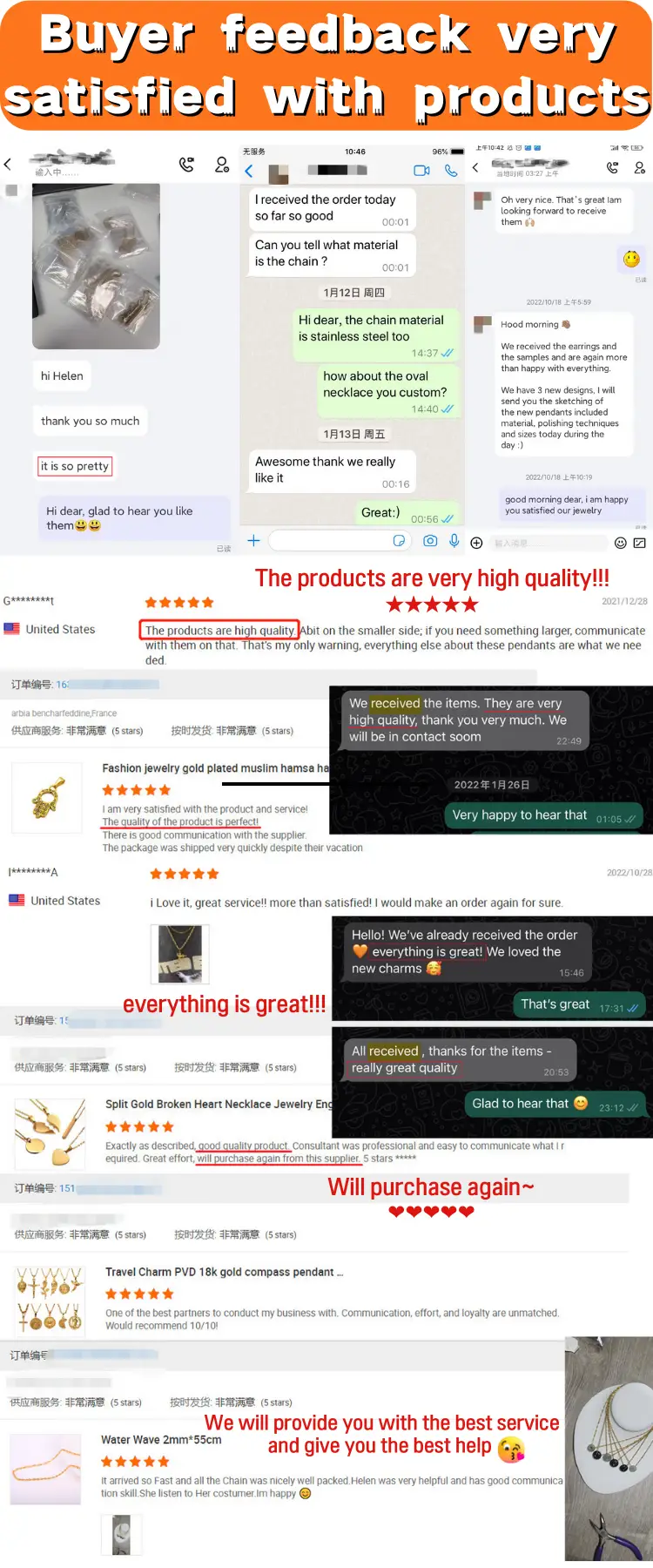 Message
If you have any suggestions or question for us.Please contact us.